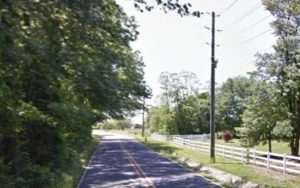 SEAFORD, DELAWARE (11/3/2016) Two people were injured in a van crash north of Seaford this evening, Delaware State Police said.
About 5:30 p.m., a 2016 Mercedes Benz Sprinter was westbound on Hearns Pond Road, east of Wesley Church Road, when it went off the north side of the road and struck a utility pole. The van then overturned onto its side.
The man driving was taken by ambulance to Nanticoke Memorial Hospital in Seaford and was admitted with undetermined injuries, police said.
A man who was a passenger in the van was flown to Christiana Hospital in Stanton in serious condition.
Police said Hearns Pond Road between Wesley Church and Conrail roads will remain closed until utility crews repair the pole and remove wires from the van.