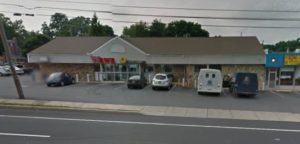 PENNY HILL, DELAWARE (10/25/2016) A Wawa convenience store was robbed at gunpoint early Monday, the Delaware State Police reported.
The crime happened about 2:30 a.m. at 705 Philadelphia Pike.
Three men, armed with handguns, demanded money from a female clerk as a fourth man acted as a lookout.
The clerk turned over cash from the register. Two of the robbers also removed donation jars from the sales counter and all four men then fled.
No one was injured.
The robbers were described as black, with three of them about 20-30 years old. Two were about 6 feet tall and one about 5-feet-5. All wore black clothing.
Anyone with information is asked to call police at 302-365-8566.