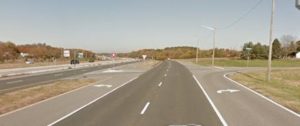 MIDDLETOWN, DELAWARE (10/17/2016) A motorcyclist was seriously injured in a crash on U.S. 13 east of Middletown on Sunday, the Delaware State Police said.
The crash on DuPont Parkway (U.S. 13) at Old State Road happened about 7 p.m.
Elmer P. McComas, 51, of New Castle, was driving a 2009 Harley Davidson FKC northbound when he was struck by a 2007 Ford Focus that pulled out from the stop sign at Old State Road, police said.
McComas was ejected from the bike, which continued north about a mile before it veered off the east side of the road and struck a ditch. The car stopped at the intersection.
McComas, who was wearing a helmet, was treated by New Castle County paramedics and taken by ambulance to Christiana Hospital in Stanton with injuries police said were not life-threatening.
The driver of the car, Nicholas G. Alexander, 32, of Smyrna, was not injured.
Police said he was cited for failing to remain stopped at a stop sign.
Woman struck in Hockessin in critical condition; driver sought
7 hurt in 6-vehicle pileup on I-295