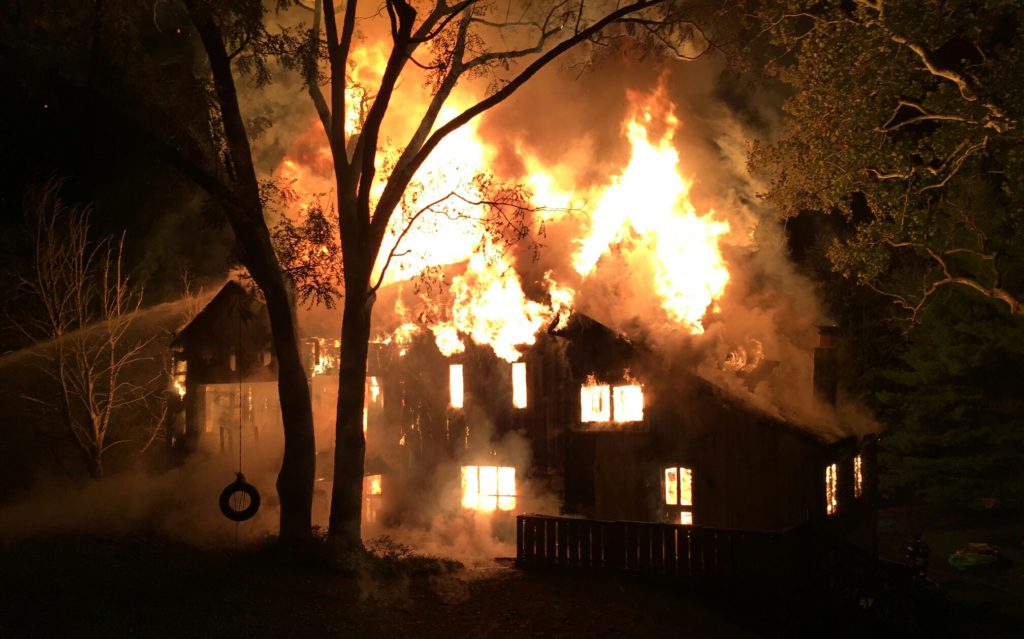 NORTH STAR, DELAWARE (10/12/2016) Fire swept through a home in North Star this evening but the five residents escaped without injury, authorities said. A family dog died in the blaze.
The fire in the 900 block of Crossan Road, in the Bridleshire Farms community, was reported shortly after 7 p.m.
The building, a barn that had been converted to a home, was fully involved with flames when Hockessin firefighters arrived, according to reports from the scene.
Numerous other fire companies were called out to fight the blaze, which took about 90 minutes to get under control.
Firefighters were forced to evacuate the building when collapse was imminent.
The home was a total loss and damage was estimated at $350,000, said Robert L. Fox, chief deputy state fire marshal.
He said the Red Cross of Delmarva was called to assist the displaced residents.
In addition to Hockessin, firefighters from  Mill Creek Fire Company and Aetna Hose, Hook & Ladder in Delaware as well as Avondale Fire Company, West Grove Fire Company, Kennett Fire Company No. 1, Longwood Fire Company and Po-Mar-Lin Fire Company from Pennsylvania responded.