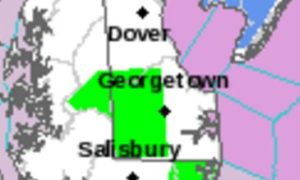 DELAWARE (10/10/2016) A flood warning is in effect until 10:30 a.m. today for parts of Kent and Sussex counties, the National Weather Service says.
The service said the Nanticoke River at Bridgeville was about 2 inches above flood stage at 5:44 a.m. with waters receding, and some road closures are reported in the area.
Seaford School District announced a one-hour delay in the opening of schools.
The flood warning includes southwestern Kent County and western Sussex County in Delaware as well as southern Caroline County in Maryland.
Parts of Sussex County received nearly 4 inches of rain over the weekend as Hurricane Matthew hit the Carolinas and then moved east in the Atlantic Ocean.
Delaware is expected to have sunny skies the next few days with highs in the 60s and overnight lows in the 40s.