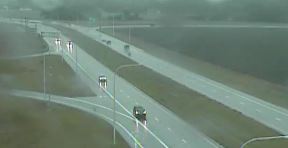 MILFORD, DELAWARE (9/19/2016) Heavy rains are flooding some streets in Milford, and city police are advising motorists to use caution.
Police say the minor street flooding may cause hydroplaning of vehicles as drain grates are unable to handle the volume of water.
"Hydroplaning occurs when a vehicle's tire can no longer channel water out of its path and rides up on top of the water, thus removing the ability to steer or brake. The condition can lead to traffic crashes. Please slow down and watch for standing water for the safety of everyone using the roadways today," according to a police advisory.
This morning's storm dumped about 2.5 inches of rain on parts of Kent and Sussex counties.