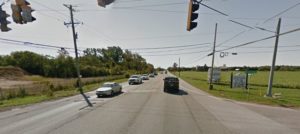 MIDDLETOWN, DELAWARE (9/17/2016) A 55-year-old man died Friday evening after his motorcycle collided with a car on Summit Bridge Road (U.S. 301) north of Middletown, the Delaware State Police said this morning.
The crash was reported at 5:18 p.m. just south of the Armstrong Corner Road/Marl Pit Road intersection.
A 2015 BMW K48 motorcycle was southbound when a 2016 Toyota Camry pulled in front of it while making a left turn from a business driveway on the northbound side of the highway.
Police said another, unknown northbound motorist had stopped to let the Camry make the turn as traffic was backed up for a red light at the intersection.
The motorcycle struck the passenger side of the Camry, with the bike falling to its side and sliding into a grassy area, ejecting David W. Reed.
Reed was taken by state police helicopter to Christiana Hospital in Stanton, where he was pronounced dead.
Police said Reed had been wearing a helmet.
The driver of the Camry, Cecilia R. Tucker, 51, of Wilmington, was not injured. Police said she was wearing a seat belt.
Neither alcohol nor speed are considered factors in the crash, police said. Their investigation is continuing.
Southbound U.S. 301 was closed about two hours.
Volunteer Hose Company of Middletown responded to the crash.
Police identify man killed in head-on crash with trooper