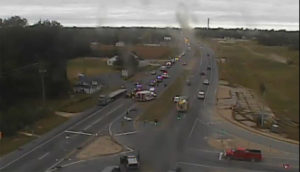 LITTLE HEAVEN, DELAWARE (9/15/2016) A crash with an overturned vehicle and injuries is jamming southbound Route 1 traffic at Bowers Beach Road.
The crash was reported at 7:48 a.m. today.
Magnolia and Bowers Beach firefighters and ambulances were dispatched to the scene, as well as a Delaware State Police helicopter.
Southbound traffic was restricted to a single lane on the shoulder and at times blocked completely as emergency crews dealt with the wreckage and the injured.
State police are investigating the crash.