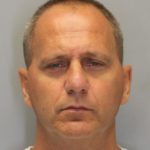 NEWARK, DELAWARE (9-13/2016) A New Castle County police officer has been arrested on 25 counts of dealing in child pornography, authorities said today.
Robert Vasecka, 45, of Newark, was arrested after an investigation by the Delaware Child Predator Task Force into the online sharing of child pornography.
"A public internet chat room reported that one of its users uploaded suspected images of child pornography," said Carl Kanefsky, spokesman for the Delaware Department of Justice.
"The Child Predator Task Force sought subscriber information for the account, which came back to Robert Vasecka," Kanefsky said.
After Vasecka's arrest, a search of his cellphone revealed at least 25 images of child pornography, Kanefsky said.
Vasecka is being held in lieu of $500,000 secured bail at Vaughn Correctional Center near Smyrna.