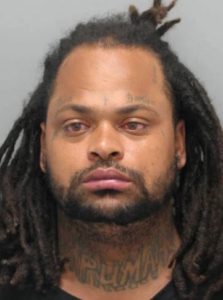 DOVER, DELAWARE (7/25/2016) A 30-year-old Harrington man has been charged with firing a gun at a state trooper Sunday at the Alder Park Apartments near Dover, the Delaware State Police said.
The trooper fired back but no injuries were reported.
The incident happened about 8:20 p.m. at 51 Webbs Lane.
Police had received a call that someone with a gun was in the area of building G at the apartment complex.
A state trooper arrived and saw a man matching the description between buildings G and H along with another male. Both ran away and the trooper chased the one matching the description, police said.
"That individual then turned and fired a round from a handgun at the trooper which resulted in the trooper firing back," Master Cpl. Gary Fournier said.
After a lengthy foot pursuit, police said, the man was taken into custody and a 9 mm handgun was found.
Initially identified as a Milford man, police now say he is Aaron T. Purnell of Harrington.
He was charged with three counts of possession of a firearm during commission of a felony, possession of a firearm by a person prohibited, aggravated menacing, first-degree reckless endangering and resisting arrest with force.
He was being held at Vaughn Correctional Center near Smyrna in lieu of  $96,000.00 cash bond.
Police did not identify the trooper but said he is 38 years old and has been employed by the Delaware State Police for 14 years. He is assigned to Troop 3 patrol in Camden.
As is standard police in police-involved shootings, he was placed on administrative leave pending outcome of the investigation.
Anyone who witnessed the incident is asked to call Sgt. D. Weaver at 302-741-2728.
Tips also may be submitted anonymously through Delaware Crime Stoppers, which offers rewards, at 800-847-3333 or www.delaware.crimestoppersweb.com.
2 Dover-area deaths called murder-suicide