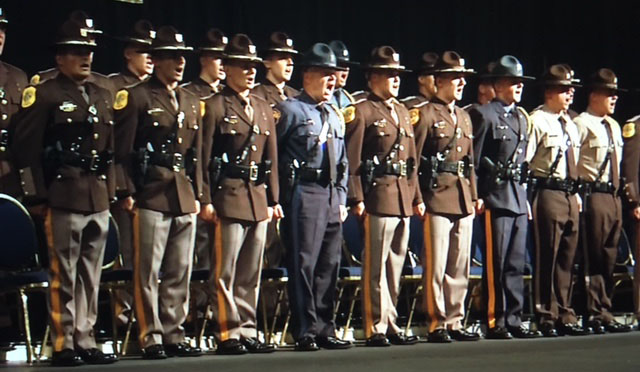 WILMINGTON, DELAWARE (7/22/2016) Badges were presented to 21 police officer recruits after their graduation from the New Castle County Police Department's 42nd Police Academy.
The presntation was held Thursday at the Chase Center on the Riverfront in Wilmington.
The recruits completed six months of intense academic, physical and practical training.
Those receiving badges:
John P. Berg- New Castle County Police
James E. Daly- New Castle County Police
Antonino DeLisi- New Castle County Police
Kevin M. Dool- Delaware Natural Resources Police
Ian D. Emmi- New Castle County Police
Robert C. Hill- New Castle County Police
Drew C. Hunt- New Castle County Police
Earl M. McCloskey- Delaware City Police
Brian J. McLaughlin- New Castle County Police
Dominick K. Mills- Newport Police
Michael E. Osborne, Jr. – New Castle County Police
Justin T. Phelps- New Castle County Police
Anthony M. Randazzo, Jr.- New Castle County Police
Paul T. Ruszkay- New Castle County Police
Shane R. Sapp- Delaware Natural Resources Police
Matthew R. Savino- New Castle County Police
Taylor R. Sigoda- New Castle County Police
Christopher N. Skrobot- New Castle County Police
Mitchell P. Snyder- New Castle County Police
Nicholas A. Tyndal- New Castle County Police
Trevor C. White- Dewey Beach Police