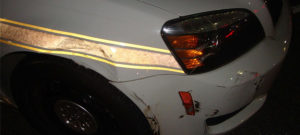 REHOBOTH BEACH, DELAWARE (7/21/2016) A driver playing the Pokémon GO computer game collided with a Rehoboth Beach police car  early Wednesday, police said.
Mark A. Oldenburg, 28, of Dover, was cited for inattentive driving after an attempt to locate a Pokémon Gym in the second block of Rehoboth Avenue caused him to drive his vehicle into the marked patrol car about 12:05 a.m., police said.
An officer was driving the patrol car in the left, eastbound lane and was struck on the front passenger side by Oldenburg;s Hyundai Sonata.
"His wife directed him to pull into a median parking space because there was a Pokemon Gym in that direction. Oldenburg followed her instructions, but failed to check his surroundings resulting in a collision with the patrol car next to him," Lt. Jaime B. Riddle said.
Both vehicles were damaged but no one was injured.
Oldenburg was issued a summons for inattentive driving and improper turn.
"The Rehoboth Beach Police Department asks that if you are going to play Pokemon Go, please do not do so while operating a motor vehicle," Riddle said.
Pokémon GO player robbed in Dover