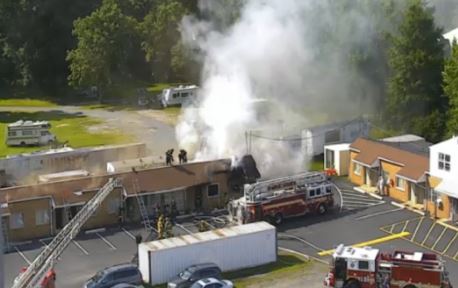 NEW CASTLE, DELAWARE (7/20/2016) Two people were injured at the Delaware Auto Court motel near New Castle in a fire that caused traffic delays at the 13/40 split this afternoon.
The fire at 235 S. DuPont Highway (U.S. 13) was reported at 4:18 p.m.
A 20-year-old firefighter suffered burns to his legs and was treated at the scene, then taken by ambulance to Christiana Hospital in Stanton, said Sgt. Abigail E. Haas of New Castle County paramedics.
A 60-year-old woman in a room near the one where the fire started was treated for shortness of breath before being taken to the hospital, Haas said.
Delaware state fire marshals were investigating the fire.
Fire companies responding included Christiana, Wilmington Manor, Minquadale, Good Will, Minquas, Delaware City, Holloway Terrace, Talleyville and Five Points.