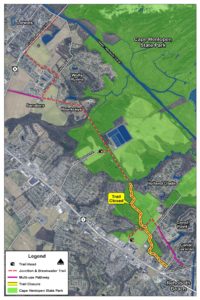 LEWES, DELAWARE (7/1/2016) A portion of the Junction & Breakwater Trail between Lewes and Rehoboth Beach will be closed for repairs later this month, state officials announced today.
Nearly two miles of trail surface will be restored between Hebron Road and the Holland Glade pedestrian bridge beginning July 11.
Other smaller segments will be repaired between the Hawkseye community and the Wolfe Neck Road parking lot trailhead.
Rough exposed rock trail sections will be resurfaced with stone dust to create a smooth surface for pedestrians and bicyclists, and areas of standing water and washouts will be repaired. Some fencing also will be replaced.
The first phase will take place July 11-15, and the second July 18-22. The trail will be open for use July 16-17.
Weather could delay the work by contractor George & Lynch Inc.
The Division of Parks & Recreation is encouraging the public to use the Gordon Pond Trail while repairs are underway to the Junction & Breakwater Trail. Together, the two trails are part of a 15-mile loop connecting Lewes and Rehoboth.