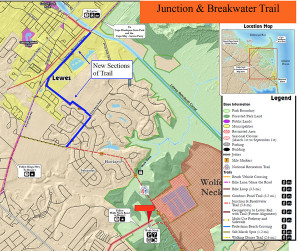 LEWES, DELAWARE (7/15/2015) A 1.5 mile addition to the Junction & Breakwater Trail connects older sections with Lewes, the Cape May-Lewes Ferry terminal and Cape Henlopen State Park.
In a ribbon-cutting on Monday, officials said the expanded trail — used by walkers, joggers and bicyclists — was built on land donated by the Delaware River and Bay Authority, which operates the ferry, and Bill and Bryce Lingo, local real estate developers.
The authority's donation was about 3.5 acres and the Lingos about 2.8 acres.
The Junction & Breakwater Trail, now extending 7.5 miles, was named after an abandoned 1800s rail line that it partially follows. The trail is used by about 50,000 people a year, according to the state Department of Natural Resources and Environmental Control. The first section opened more than 10 years ago.
John Kurpjuweit, president of Sussex Cyclists, a group that has been working with DelDOT and DNREC to improve the trail that connects Lewes and Rehoboth Beach, said, "It gives us a safe, convenient passage into Cape Henlopen without having to share the road with traffic on Gills Neck Road. Now there is almost an entire, off-road loop from the state park to Lewes, and to Rehoboth. This provides access from the populated areas to the trail around Gordons Pond, which is the most beautiful bike ride in the state."
Earlier map of Junction & Breakwater Trail