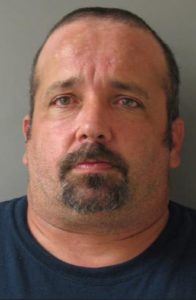 ELSMERE, DELAWARE (5/15/2016) A 46-year-old man has been charged with a seventh DUI following a crash south of Elsmere that injured two people, New Castle County police said today.
The crash happened about 11:10 p.m. Friday at Boxwood Road and Overland Avenue/Birmingham Avenue.
Richard Chamberlin, of the 200 block of Lauren Drive in the Middleboro Manor community, was southbound on Boxwood when his vehicle struck the rear of a Nissan Maxima that was waiting at the light to make a left turn onto Overland.
The Nissan, driven by an 18-year-old woman, was pushed into the northbound lanes where it was struck head-on by a Lexus, Cpl. Tracey Duffy said.
Chamberlin's vehicle continued into a light pole, where it came to rest. He suffered injuries to his head and officers smelled a strong odor of an alcoholic beverage, Duffy said.
Chamberlin and the driver of the Lexus were taken by ambulance to Christiana Hospital in Stanton, Duffy said, with injuries not considered life-threatening. Chamberlin remained hospitalizaed today and was awaiting arraignment.
No injuries were reported to the driver of the Nissan.
In addition to the seventh driving under the influence of alcohol charge, Chamberlin was charged with second-degree vehicular assault, reckless driving, driving while suspended or revoked and driving at an unsafe speed.