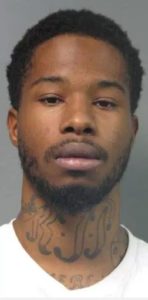 DOVER, DELAWARE (4/22/2016) Dover police have arrested a suspect in a home invasion and assault earlier this week.
The incident happened about 2 a.m. Sunday in the 300 block of Fulton St., where a 20-year-old man had a small gathering of people and another man entered uninvited.
When the resident asked him to leave, the intruder struck him in the back of the head with a handgun and fled, Master Cpl. Mark Hoffman said.
The victim was taken to Bayhealth Kent General Hospital for treatment of a cut on his head.
On Thursday evening, police arrested 23-year-old Keontre Hynson while he was walking in the area of North New Street.
He was charged with home invasion and second-degree assault and was being held at Vaughn Correctional Center near Smyrna in lieu of $35,000 cash bond.