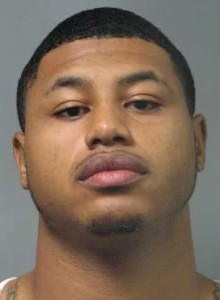 DOVER, DELAWARE (4/11/2016) A 23-year-old Dover man was arrested after police stopped his vehicle on U.S. 13 and seized heroin and other drugs, city police said this morning.
The arrest in the 400 block of N. DuPont Highway (U.S. 13) happened about 4:10 p.m. Thursday came after a joint investigation by Dover and Delaware State Police.
Pierre Foreman, of the first block of Acacia Place, was charged with Tier 5 heroin possession, possession with intent to deliver heroin in Tier 4 quantity, possession with intent to deliver crack cocaine, possession of marijuana, driving while suspended and possession of drug paraphernalia.
Master Cpl. Mark Hoffman said police found 21.4 grams of raw heroin, 161 bags containing 2.415 grams of heroin, 1.1 grams of crack cocaine, .3 grams of marijuana and $1,391 in suspected drug proceeds in Foreman's vehicle.
He was being held at Vaughn Correctional Center near Smyrna in lieu of $106,501 cash bond.