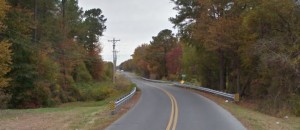 MILFORD, DELAWARE (4/11/2016) Milford police said this morning they had lost contact with an SUV that fled a traffic stop in the city before it crashed, killing the driver.
The accident was reported at 11:37 p.m. Friday on North Old State Road south of Milford. Delaware State Police said  Lemar C. Campbell, 35, of Milford, was pronounced dead at the scene after he lost control of the 2002 GMC Envoy, struck three trees and overturned. Two passengers were injured.
"The traffic stop conducted by officers from our agency was for a traffic violation," Milford Sgt. Dwight Young said. "The officers were trying to get back into their vehicle after Mr. Campbell fled from the traffic stop (as they exited their patrol vehicle and approached the vehicle)."
Young said the officers headed in the direction Campbell had fled.
"That is when they came across Campbell's vehicle and saw that he had been involved in the accident just a short distance away from the initial traffic stop," he said.
State police had reported the traffic stop happened on South Walnut Street, which becomes North Old State Road south of the city limits. The accident happened on a curve two-tenths of a mile south of the city line, according to state police.
Man dies in crash after fleeing police