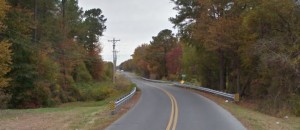 MILFORD, DELAWARE (4/9/2016) A 35-year-old man was killed when the SUV he was driving crashed into trees south of Milford after fleeing from city police, Delaware State Police said this morning.
The crash was reported at 11:37 p.m. Friday on North Old State Road about two-tenths of a mile south of Milford.
State police said Milford officers had stopped the 2002 GMC Envoy on South Walnut Street, and as officers began to exit their patrol vehicles, the Envoy driven by Lemar C. Campbell fled south and left town limits.
Campbell, of Milford, lost control of the Envoy on a slight right-hand curve, spun around and left the east side of the road, striking three trees, state police said, then overturned onto its roof.
Campbell, who state police said was not wearing a seat belt, was pronounced dead at the scene. State police said alcohol use on his part is being considered as a factor in the crash.
Two male passengers in the SUV were taken by ambulance to Bayhealth Milford Memorial Hospital, treated and released.
Milford police have not released any details on the incident and state police did not indicate if officers were in pursuit of the vehicle at the time of the crash.
North Old State Road was closed about three hours as police investigated and the wreckage was cleared.