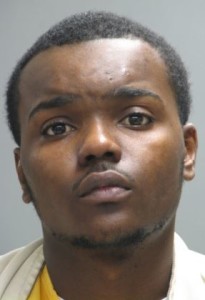 SMYRNA, DELAWARE (3/27/2016) A 21-year-old man was arrested on assault and drug charges after an officer spotted a woman trying to get out of a moving vehicle, city police said early this morning.
The incident happened about 11 p.m. Friday on South Carter Road near Dorchester Court.
The officer stopped the vehicle and determined the man had been assaulting the woman during an altercation, Cpl. Brian M. Donner said.
The man provided a false name but was later identified as Delquan Shakir of Smyrna, said Donner.
"Further investigation revealed that Mr. Shakir was in possession of a quantity of marijuana packaged for sale as well as illegal controlled prescription drugs," Donner said.
He said Shakir also was wanted by Dover police on a shoplifting charge and on several Delaware court warrants, and by Pennsylvania authorities for failing to appear for trial on drug-dealing related charges.
Smyrna police charged Shakir with possession with intent to deliver a controlled substance, third-degree assault, criminal impersonation, possession of a controlled substance and driving while suspended/revoked.
He was being held by the Department of Correction in lieu of $106,550 cash bond on the Smyrna charges and $500 secured bond for the Dover charge.
An extradition hearing was pending on his fugitive status from Delaware County, Pennsylvania, Donner said.