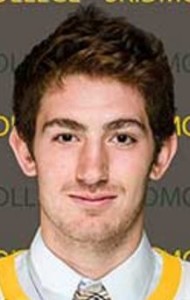 NEWARK, DELAWARE (3/21/2016) Newark police today identified a 20-year-old man killed when he fell from a third-story roof over the weekend.
Willem H. Golden, of Cohasset, Massachusetts, was a guest at the home in the 100 block of W. Main St., Sgt. Gerald J. Bryda said.
About 3:55 p.m. Saturday, Golden went out on the roof alone and according to witnesses he appeared to have slipped and fell from the roof, which was wet from light rain. Bryda said. Police do not suspect foul play but Bryda said their investigation is continuing.
Anyone with information is asked to contact Detective Michael Watson at 302-366-7100, ext. 3132, or Michael.Watson@cj.state.de.us.
Golden was a freshman at Skidmore College, according to his obituary. He was a member of the Skidmore hockey team.