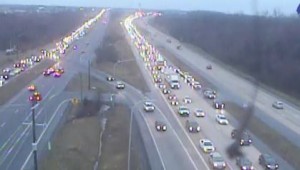 ST. GEORGES, DELAWARE (3/15/2016) Delays have eased after several crashes are caused major delays for northbound Route 1 and Route 896 motorists this morning, with at least four injuries reported. One of the crashes involved a New Castle County police car.
A crash with injuries on the Roth Bridge over the Chesapeake & Delaware Canal was reported at 7:15 a.m.
The crash atop the bridge involved two vehicles, according to reports from the scene.
DelDOT reported the two left lanes closed.
Odessa, Christiana and Delaware City fire companies were dispatched.
Northbound U.S. 13 also was jammed approaching the St. Georges Bridge.
The initial crash, reported at 6:43 a.m., shut the two right northbound lanes at Red Lion Creek, just south of Tybouts Corner. The backup extended beyone the Route 72 overpass for more than three hours but finally cleared about 10 a.m.
Four people were injured in this crash, according to Cpl. David J. McKinney Jr. of New Castle County paramedics:
• Two children were taken to Nemours/A.I. DuPont Hospital for Children for minor injuries on ambulances from Christiana Fire Company. They were in stable condition.
• An elderly woman who was complaining of a neck and shoulder injury was taken by ambulance to Christiana Hospital in Stanton in stable condition.
• A 31-year-old woman complaining of an extremity and head injury was treated by paramedics and taken to  Christiana on a Delaware City Fire Company ambulance. She was in stable condition.
While the injured were removed from the scene, emergency crews remained and delays continued more than three hours after the crash. Delaware State Police and New Castle County police were on the scene.
One of the cars involved in the crash near Tybouts was an unmarked New Castle County police cruiser, said Cpl. Tom Jackson of county police.
Another crash was blocking the left northbound lane on the Summit Bridge (Routes 896/301) over the canal at 8:55 a.m.