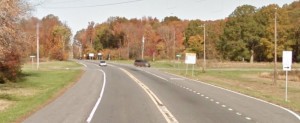 MIDDLETOWN, DELAWARE (3/12/2016) A 17-year-old boy was killed and four other people were seriously injured in a crash involving a pickup truck and a tractor-trailer west of Middletown late Friday night, Delaware State Police said.
The boy killed and the injured pickup driver have been identified by a school official as students at Salesianum School in Wilmington, and another passenger is a Padua Academy student who is in critical condition.
The accident happened about 11:30 p.m. on U.S. 301 (Middletown Warwick Road) at Strawberry Lane.
A 2005 Dodge Dakota pickup, driven by John W. Kirsch, 18, of Middletown, was eastbound and attempting to cross U.S. 301 from the stop sign at Strawberry Lane when the Dodge was struck by the northbound tractor-trailer, police said.
Kirsch is a senior at Salesianum, according to Father Chris Beretta, principal at the school.
Tyler Richie Brown, 17, also a senior at Salesianum, was a front-seat passenger in the Dakota and was taken to Christiana Hospital, where he died of his injuries.
Beretta said a Mass will be held at the school at 4 p.m. today.
Padua senior Kelly Muschiatti. 18, was a rear-seat passenger in the Dakota and was treated at the scene by New Castle County paramedics for head and facial injuries. She was flown to Christiana by state police helicopter. Police said her injuries are life-threatening and she is in critical condition. Beretta said she had undergone surgery.
Kirsch was treated at the scene by paramedics for a chest injury, possible head injury and upper extremity injury. He was taken by ambulance to Christiana in serious condition, police said.
The driver of the tractor-trailer, Julio Gallegos, 52, of New Jersey, and his passenger,  Carolina Garcia, 30, of Middletown, suffered serious injuries, police said. Both were taken by ambulance to Christiana. Police said both were wearing seat belts but seat-belt use by the teens had not been confirmed.
Police said both vehicles traveled northeast after the impact, with the tractor-trailer overturning onto its left side before stopping east of U.S. 301.
The pickup truck spun around and came to a stop east of the highway facing southwest.
All three occupants of the pickup had to be extricated by firefighters.
The intersection was closed about 4 hours as police investigated and the wreckage was cleared.
Middletown woman, 21, killed in crash near Townsend