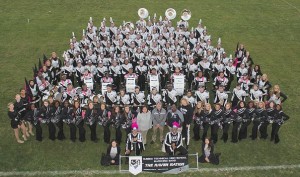 GEORGETOWN, DELAWARE (3/4/2016) More than 120 students from the Sussex Technical High School Raven Nation Marching Band will travel to New York City on March 17 to take part in the 255th annual St. Patrick's Day Parade.
The parade is held on Fifth Avenue in midtown Manhattan.
Director Ian Kenney said Sussex Tech is the only band from Delaware participating and one of 15 traveling from outside New York.
The Marching Ravens will play two selections, Delaware's state song 'Our Delaware' as well as the Irish-inspired 'Riverdance' theme.
"We are honored to be among the selected bands to participate in this year's St. Patrick's Day Parade," Kenney said. "This is a fantastic, once-in-a-lifetime kind of event that will give students an authentic cultural experience, and at the same time allow the Raven Nation to showcase its skills to millions of people in New York City and around the globe."
The parade will be broadcast live, beginning at 11 a.m., on WNBC-TV 4 in New York City, and can be viewed online at NBCNewYork.com.