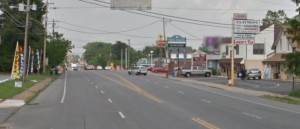 CLAYMONT, DELAWARE (3/1/2016) A 54-year-old man struck by a pickup truck in Claymont on Monday evening was flown to a hospital in serious condition, authorities said. Delaware State Police charged him with being drunk on a highway.
The accident happened about 6:35 p.m. on in the 2600 block of Philadelphia Pike, near Harvey Road.
The man was conscious and breathing, said Cpl. David J. McKinney Jr of New Castle County paramedics.
He was identified by state police as Paul Malloy of Wilmington.
Police said he stepped into the right southbound lane and was struck by a 1999 Mazda B2500 driven by David A. Clouse, 67, of Claymont.
Malloy was knocked to the ground, and Clouse brought his vehicle to a stop just south of the crash, police said.
Malloy was treated by paramedics for a possible head injury and other injuries to the upper and lower body, and then flown to Christiana Hospital in Stanton by state police helicopter.
He also was cited by police with crossing at other than a crosswalk and failure to carry a light at night on a roadway.
Police said no other charges are expected.
Clouse was not injured.
The southbound lanes of Philadelphia Pike were closed about 35 minutes as police investigated.
Claymont Fire Company also responded.
Police identify 34-year-old Hockessin man killed by hit-run driver