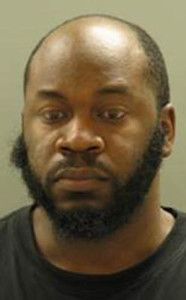 EDGEMOOR, DELAWARE (2/29/2016) A Wilmington man has been charged in the 2013 double homicide at the Paladin Club Condominiums, New Castle County police announced today. It is the fourth arrest in what authorities said was a murder-for-hire.
Aaron Thompson, 32, of the 2700 block of N. West St., was arrested in Wilmington on Friday.
He was charged with two counts of murder in the deaths of newlyweds Joseph and Olga Connell on Sept. 22, 2013. He also was charged with two counts of possession of a firearm during commission of a felony and first-degree conspiracy.
Thompson was being held without bail at Sussex Correctional Institution near Georgetown, Cpl. Tracey Duffy said.
Dominique Benson, 23, of the 600 block of Washington St. in Wilmington; Christopher Rivers, 31, of the 1200 block of Faun Road in Brandywine Hundred; and Joshua Bey, 29, of the 1400 block of Chestnut St. in Wilmington, were arrested in September 2014 and each charged with two counts of first-degree murder.
Rivers was Joseph Connell's business partner in a Talleyville auto shop. Authorities alleged that the murder was arranged so he could collect on a life insurance policy of which he was the beneficiary.
Prosecutors said in court papers that Bey, acting on behalf of Rivers, hired Benson and an "unnamed co-conspirator" to carry out the murder.
Bey later became a witness for the prosecution.