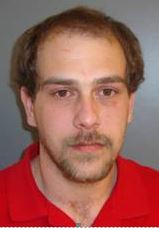 REHOBOTH BEACH, DELAWARE (2/28/2016) A Kent County man was charged with driving under the influence after his car hit a curb in the Rehoboth Avenue traffic circle, city police said.
The incident happened just before 1 a.m. Saturday.
Police said Anthony S. Boehmer, 26, of the Camden-Wyoming area, was westbound in the right lane when he failed to negotiate the circle and struck the curb along the shoulder, then crossed back into the left lane.
The crash was witnessed by a Rehoboth police officer who then stopped Boehmer's car, which had front passenger-side damage that disabled the vehicle, Lt. Jaime B. Riddle said.
"Upon contacting Boehmer, the officer smelled alcohol coming from the vehicle and observed that Boehmer was showing indications of impairment. While speaking to the driver, the officer also observed a clear plastic bag containing marijuana and a glass pipe in the center console of the vehicle. The marijuana and pipe were seized and Boehmer was administered standard field sobriety test and a portable breath test which he failed on scene," Riddle said.
Boehmer was taken to Beebe Healthcare's hospital in Lewes for a blood test but refused to cooperate with nurses, police said, and had to be restrained by officers.
"Boehmer's resistive behavior resulted in a handcuff key being broken off in the set of handcuffs being used to restrain him. Officers were able to remove the handcuffs, but both the handcuffs and the key were permanently damaged," Riddle said.
No injuries were reported from the crash or the incident at the hospital.
Boehmer was charged with driving under the influence of alcohol, inattentive driving, misdemeanor possession of marijuana, possession of drug paraphernalia, misdemeanor resisting arrest, misdemeanor criminal mischief and failure to have insurance identification in possession. He was released on $3050 unsecured bail.