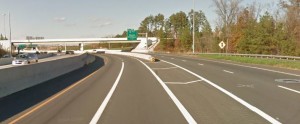 CHRISTIANA, DELAWARE (2/18/2016) A 24-year-old woman was seriously injured when the vehicle she was driving struck the guardrail separating northbound Route 1 from the ramp to northbound Interstate 95, authorities said.
The crash near Christiana Mall happened just before midnight Wednesday.
The woman was treated at the scene for a lower extremity injury, then taken by ambulance to Christiana Hospital in Stanton, said Sgt. Abigail E. Haas of New Castle County paramedics.
The crash is under investigation by Delaware State Police.
Christiana Fire Company also responded.