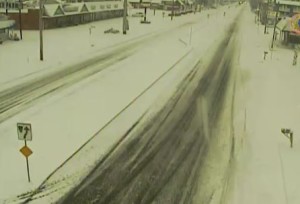 DELAWARE (2/15/2016) Light snow, more than an inch already on some parts of the state, will change to sleet and freezing rain late this afternoon, the National Weather Service says.
At 7 a.m., 1.2 inches of snow had fallen at Selbyville, with smaller amounts in other areas of Sussex and Kent counties. Snow was to arrive later in New Castle County.
The weather service is predicting 1 to 2 inches of snow and sleet for across the state, with a light glaze on top from freezing rain.
The temperature will rise to around  the freezing mark later today, with Tuesday's high is predicted to be in the low to mid-50s, with heavy rain.
A winter weather advisory is in effect for New Castle County until 10 tonight, and until 4 p.m. for Kent and Sussex counties, the weather service said.