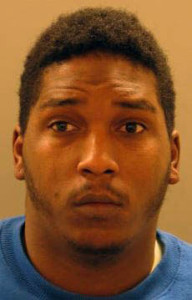 NEWARK, DELAWARE (2/14/2016) A 25-year-old Wilmington man was arrested on charges of kidnapping and abusing his ex-girlfriend for several hours, including stabbing her in the arm, Newark police said today.
Police said the ordeal in a home on Kershaw Street ended about 3 a.m. Saturday.
The 24-year-old victim, from Wilmington, was staying there with a friend when, police said, her ex-boyfriend, Wayne E. Carter Jr., suddenly appeared in the house.
"Carter held the victim in the house for several hours while he repeatedly assaulted her," Lt. Bill Hargrove said.
The victim was eventually able to convince Carter to leave, Hargrove said, and she called police.
She was taken by ambulance to Christiana Hospital in Stanton and admitted for treatment of injuries police said were not life-threatening.
Carter was arrested at his home by Wilmington police and charged with first-degree assault, possession of a deadly weapon during commission of a felony (knife), home invasion when armed with a deadly weapon, second-degree kidnapping inflicting injury, first-degree burglary, three counts of strangulation with a dangerous instrument, strangulation, terroristic threatening, third-degree assault and offensive touching.
He was being held at Young Correctional Institution in Wilmington in lieu of $227,100 cash bail.
Hargrove said neither the victim nor Carter are associated with the University of Delaware.
He asked anyone with information to contact Detective Michael Watson at 302-366-7100, ext. 3132, or Michael.Watson@cj.state.de.us .
Tips also may be submitted anonymously through Delaware Crime Stoppers, which offers rewards, at 800-847-3333 or www.delaware.crimestoppersweb.com.
Assault 1st Degree
Possession of a Deadly Weapon During the Commission of a Felony (knife)
Home Invasion when armed with a deadly weapon
Kidnapping 2nd, Inflicting Injury
Burglary 1st
Strangulation with dangerous instrument (3 counts)
Strangulation
Terroristic Threatening
Assault 3rd
Offensive Touching
###