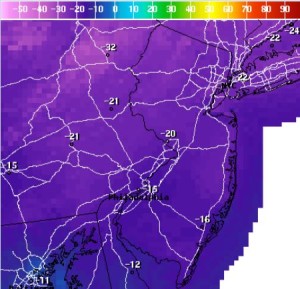 DELAWARE (2/12/2016) The temperature in Delaware is expected to drop to around 5 degrees Saturday night, with blustery winds making it feel much colder, and the National Weather Service is offering tips for surviving the arctic blast.
The cold will bring the risk of frostbite and hypothermia as well as freeze unprotected water pipes and strain heating systems and car batteries, the service said.
Tips for surviving:
• Make sure your home and vehicle have plenty of fuel.
• Never venture outdoors without wearing a hat, gloves and several layers of clothing. Gusts of 40-50 mph will bring a wind chill of minus 12 late Saturday and early Sunday and could cause frostbite for exposed skin in less than 30 minutes.
• Run water at a trickle and leave cabinet doors open to prevent freezing, especially for pipes on outer walls.
• Never use an open flame to thaw frozen pipes nor use a stove or oven to heat your home. Many house fires have resulted from these practices, and the risk of carbon monoxide fumes is increased.
• Check tire pressure and your car battery. Carry a winter safety kit including a blanket, warm clothes and gloves in case your car breaks down.
• Take extra steps to keep your pets warm and know their limits in the cold.
A storm due Monday night and early Tuesday may bring significant snowfall or freezing rain, the weather service said.