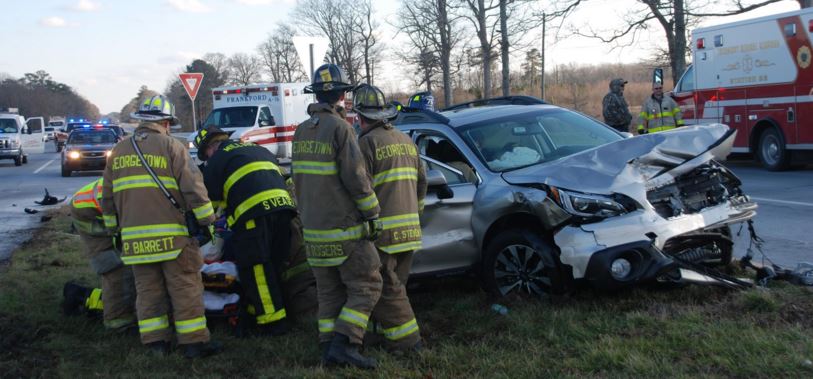 MILLSBORO, DELAWARE (2/11/2016) Two teenagers were in critical condition after a crash on U.S. 113 north of Millsboro, the Delaware State Police said.
The accident happened about 3 p.m. Wednesday at the Avenue of Honor intersection.
Theresa L. Tingen, 17, of Millsboro, was driving a 2001 Dodge Stratus with two teenage passengers westbound on Avenue of Honor when she pulled out after stopping at the stop sign at U.S. 113 (DuPont Boulevard).
Her car was struck on the driver's side by a northbound 2016 Subaru Outback driven by John W. Brown, 80, of Lewes.
The two vehicles continued northwest, with the Stratus coming to a stop in the middle of the southbound lanes and the Outback stopping in the grass median.
Tingen was extricated from her car by firefighters and taken by ambulance to Beebe Healthcare's hospital in Lewes, then later flown by LifeNet to Christiana Hospital in Stanton in critical condition. Police said she had been wearing a seat belt.
Joshua C. Reynolds, 15, of Millsboro, was in the front seat of the Stratus but not wearing a seat belt, police said. He was being flown to Christiana but due to his injuries was diverted to Bayhealth Kent General Hospital in Dover, where he was in critical condition, police said.
A 15-year-old girl who was a rear-seat passenger in the Stratus was taken by ambulance to Beebe, treated and released. Police said she hadn't been wearing a seat belt.
Brown and his 75-year-old wife were both taken by ambulance to Beebe. He was admitted with undetermined injuries and she was treated and released. Police said both had been wearing seat belts.
Police said they are still investigating the crash and no charges have been filed.
Southbound U.S. 113 was closed about 3 hours as police investigated and the wreckage was cleared.
Millsboro and Georgetown firefighters responded, as well as EMS units from American Legion, Dagsboro, Frankford and Sussex County.