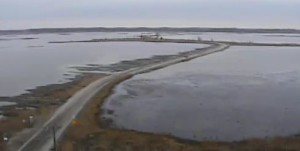 DELAWARE (2/8/2016) Coastal flooding predicted through Tuesday morning may flood some roads and damage vulnerable structures, the National Weather Service says. And much of Delaware may see 4 to 8 inches of snow tonight and Tuesday.
Waves of 8 to 10 feet are predicted near the shore on the Atlantic Coast and significant beach erosion is likely, the service said. Waves of 3 to 5 feet are predicted for Delaware Bay.
The flooding will occur at high tide times, which are around 7-8 tonight and 7:30-8:30 Tuesday morning along the coast and later on Delaware Bay and the inland bays.
The weather service issued a coastal flood advisory until 4 a.m. Tuesday and a coastal flood watch from late tonight through Tuesday afternoon for Kent and Sussex counties.
The service said there is an 80 percent chance of snow in New Castle and Kent counties, and a winter storm watch is in effect from late tonight through Tuesday night. Northeast winds may gust to 20 mph during the storm. The temperature will be in the low to mid-30s.
Up to about 2 inches of snow is predicted for Sussex County.
Snow could mix with rain and reduce the snow totals, the service said.