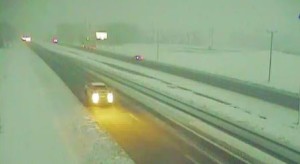 DELAWARE (2/25/2016) Many school districts across the state will open late this morning and some will be closed as a result of snow causing slippery conditions on the roads.
The National Weather Service predicted as much as 4 inches of snow may fall in parts of the state.
Conditiions on Interstate 495 brought a reduction of the speed limit to 45 mph, DelDOT reported.
By 7:20 a.m. today, 2 inches of snow had fallen west of Dover, the highest amount in the state.
Closed
Cape Henlopen
Indian River
Laurel
Polytech
Providence Creek Academy
Seaford
Sussex Academy of Arts and Sciences
Sussex Technical
Woodbridge
Two-hour delay
Appoquinimink
Caesar Rodney
Campus Community Charter School
MOT Charter School
Positive Outcomes Charter School
Smyrna
One-hour delay
Colonial
Latest updates on school closings, delays