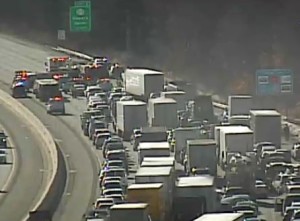 OGLETOWN, DELAWARE (2/2/2016) Two people were injured when their van overturned in a crash with a pickup truck that closed southbound Interstate 95 for more than two hours, Delaware State Police said.
The crash happened shortly before 2 p.m. today approaching the Route 273 exit. Police initially reported three vehicles were involved but then determined there were just two.
Southbound traffic was diverted onto Churchmans Road, with the I-95 backup extending at times to Wilmington.
Police said Jesse Gerber, 26, of Middle River, Maryland, was driving a 2008 Ford F-150 pickup in the center lane when for unknown reason he struck the rear of a 2007 Ford van.
Gerber then lost control of his truck, which spun around and struck a guardrail, where it came to a stop.
The driver of the van, Dorine N. Arita, 43, of New Castle, also lost control and the van overturned onto its left side and came to a stop in the roadway, police said.
Gerber was not hurt. Arita and a 27-year-old woman riding with her were treated at the scene and taken by ambulance to Christiana Hospital in Stanton. Police described their injuries as not life-threatening.