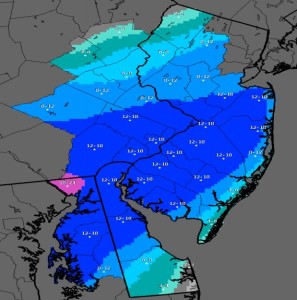 DELAWARE (1/21/2016)  The blizzard expected to dump as much as 18 inches of snow on the northern half of Delaware also will produce moderate to major coastal flooding along the Atlantic Coast, Delaware Bay, Rehoboth Bay and Indian River Bay, according to predictions from the National Weather Service  late this afternoon. But some coastal areas may get no snow at all, just rain.
The coastal flooding may cause property damage and road closures, the service said.
Delaware health officials announced that Code Purple shelters, organized and staffed by volunteers, would be available across the state for the homeless to take refuge from the storm.
The area expected to get 12-18 inches of snow now covers all of New Castle County and the northern two-thirds of Kent County.
Southernmost Kent County and extreme northern Sussex County are predicted to get 8-10 inches, with smaller amounts across Sussex approaching the Atlantic Ocean coast.
New Castle and Kent counties are under a blizzard watch and Sussex County remains under a winter storm watch.
The weather service also issued a coastal flood watch, with the worst flooding expected at high tides Saturday and Sunday mornings.
The storm will come with northeast winds along the coast gusting to 60 mph, and inland to 40 mph from Friday night to early Sunday morning, forecasters say.
The snow is predicted to begin arriving after the Friday evening commute and last into early Sunday.
Dry and fluffy snow is expected at the start of the storm, but turning to a wetter snow that will cling to trees and wires and could cause damage and power outages. Some roads could become impassable during the storm, and driving may be hindered by whiteout conditions.
Some sleet could mix with the snow along the coast.
Temperatures will be in the upper 20s to lower 30s.