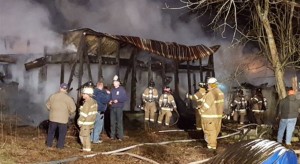 HARBESON, DELAWARE (1/18/2016) Fire destroyed a farm outbuilding south of Harbeson on Sunday night, authorities said.
The blaze, reported about 6 p.m. in the 20000 block of Beaver Dam Road (Route 23), lit up the sky with an orange glow as firefighters arrived.
The building housed livestock and other items.
The Delaware state Fire Marshal's Office is investigating the blaze.
Indian River, Lewes and Millsboro fire companies responded.