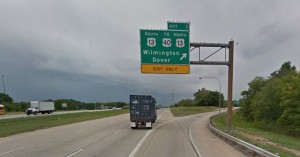 WILMINGTON, DELAWARE (1/18/2016) Four people were injured in a two-vehicle crash on southbound Interstate 495 south of Wilmington this afternoon, authorities said. One of the vehicles overturned.
The crash was reported at 4:22 p.m. at the off ramp for North DuPont Highway (U.S. 13).
Three people in the overturned vehicle, all believed to be in their 20s, were taken by ambulance to Christiana Hospital in Stanton, said Sgt. Abigail E. Haas of New Castle County paramedics.
A woman who was a rear-seat passenger was treated for a possible head injury and was in stable condition.
The woman who was driving and a man riding in the front seat were taken to the hospital by ambulance for unspecified injuries.
A 25-year-old man in the other vehicle was treated for back pain, scrapes and a possible head injury, Haas said. He was taken to Christiana Hospital in stable condition.
The crash was being investigated by Delaware State Police.
Minquadale, Holloway Terrace, Wilmington Manor and Delaware City fire companies responded.