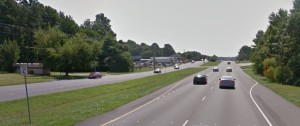 MIDDLETOWN, DELAWARE (1/17/2016) A New Castle County police car crashed on Route 1  about a mile south of the Route 299 exit this morning, authorities said, and the officer involved suffered minor injuries.
The accident along Middletown's eastern border happened just after 4 a.m.
The police cruiser went off the left side of the road and struck the median guardrail, said Cpl. Tom Jackson, a police spokesman. The car spun around and came to rest facing north in the southbound lanes.
The officer, who has been with the force nearly 3 years, was taken by Odessa Fire Company ambulance to Christiana Hospital in Stanton. His injuries were not life-threatening, Jackson said.
A Delaware State Police helicopter responded, Jackson said, but wasn't needed. An earlier report from police indicated the helicopter had flown the injured officer to the hospital.
Southbound Route 1 was closed in the area for a time as police investigated the crash.
Woman, 32, critically injured when SUV hits ditch, tree
Driver charged with DUI after car hits tree; 2 hurt