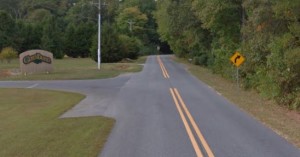 UPDATED STORY: Woman dies of injuries from SUV crash
SEAFORD, DELAWARE (1/17/2016) A 32-year-old woman was critically injured when her SUV went into a ditch and struck a tree west of Seaford, the Delaware State Police reported this morning.
The crash happened just before midnight Friday on Green Briar Road near Green Briar Way.
Police said Jennifer L. Ayon, of seaford, was driving a 2004 Hyundai Sante Fe northbound when it crossed the southbound lane and went off the west side of the road.
Ayon was not wearing a seat belt, police said. She was taken by ambulance to Nanticoke Memorial Hospital, then transferred to Christiana Hospital in Stanton.
Police said they are still investigating the crash.