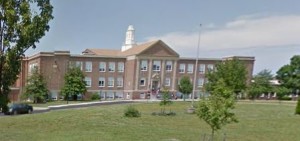 DOVER, DELAWARE (1/13/2016) Two students were arrested after a gun was fired Tuesday in a restroom at Central Middle School in Dover, city police reported.
No one was injured but school property was damaged. Police said one of the boys had stolen the weapon from his father.
The incident happened about 12:15 p.m. and police said it wasn't related to a bomb threat at the school earlier in the day.
Staff members heard the sound of the shot and found a toilet damaged and water leaking in a first-floor restroom.
After reviewing video, police said they determined 13-year-old Nasir Bush was the only student in the restroom at the time. Staff and the school resource officer took him into custody without incident.
The Smith and Wesson .380 handgun was located in a second-floor restroom, Master Cpl. Mark Hoffman said.
He said investigators determined Bush had taken the gun from the locker of 12-year-old Aaron Carillo.
"Officers and school officials quickly located Carillo, who admitted to stealing the gun from his father and bringing it to school to give to Bush," Hoffman said.
Bush was alone in the restroom when the gun was fired and there were no injuries, Hoffman said.
The school was placed on lockdown until normal operations resumed about 1:30 p.m. Dover police remained at the school the rest of the day.
Bush and Carillo were awaiting arraignment on charges of possession of a handgun by prohibited juvenile,  possession of a weapon in safe school zone and carrying a concealed deadly weapon. Carillo also faces a charge of theft of a firearm, and Bush faces a charge of criminal mischief.