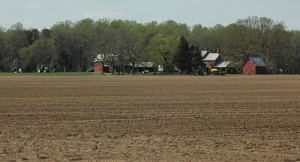 DOVER, DELAWARE (1/12/2016)  Delaware farmers' markets surpassed $3 million in sales for the first time in 2015, the state Department of Agriculture announced today.
"This record-breaking season shows how Delaware's family farms are thriving, growing, and leading the nation," said Gov. Jack Markell. "Our farmers' markets help support local growers, lead to jobs, and build our economy, while bringing communities together. This is a testament to the hard work of our farmers and local leaders, and to Delawareans' increasing desire for local, healthy, nutritious foods."
Secretary of Agriculture Ed Kee said, "When a farmer can talk directly with the person who'll be grilling her sweet corn for dinner or slicing his watermelon, that makes an important connection. Most people today have no connection with farming, and the one-on-one conversations that can happen at a market are vital to helping others understand farming."
Sales from all 25  community-run farmers' markets increased 15 percent over 2014. Sales have increased ninefold since the Department of Agriculture began tracking them in 2007.
Fresh produce made up 55 percent of total sales, with the remainder coming from products such as meats, cheeses, jellies, breads, salsa, eggs or honey.
Delaware's farmers' markets are all run at the local level, by municipalities, business groups, farmers or market associations, with the Department of Agriculture providing support and marketing assistance.
The 2016 market season will begin in April, with most markets starting operations in May, June and July. There is one winter market open, in Millsboro.
Farmers and others interested in becoming a vendor, or community groups interested in starting a local market, should contact Department of Agriculture marketing specialist David Smith at (302) 698-4625 or davidm.smith@state.de.us.
Delaware Farmers' Market Sales
2007: $289,706
2008: $800,679
2009: $1,121,024
2010: $1,330,617
2011: $1,794,265
2012: $1,960,357
2013: $2,107,265
2014: $2,636,727
2015: $3,029,831