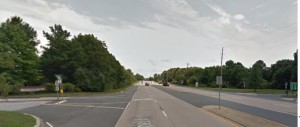 NEWARK, DELAWARE (1/11/2016) Two drivers were injured in the collision of a sedan and pickup truck near Newark this evening, authorities said.
The crash happened about 7:50 p.m. at Otts Chapel Road and Oklahoma State Drive.
A 19-year-old woman driving the car was trapped in the wreckage about 15 minutes until she was freed by firefighters from Aetna Hose, Hook & Ladder Company, said Lt. Michael A. McColley of New Castle County paramedics.
She was treated for a possible head injury and multiple scrapes, then flown by Delaware State Police helicopter to Christiana Hospital in serious condition.
The driver of the truck, a 30-year-old man, was treated for a possible head injury and upper extremity injuries and taken by ambulance to Christiana Hospital in stable condition.
State police are investigating the crash.