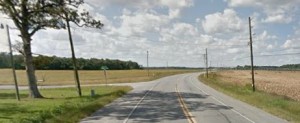 MILLSBORO, DELAWARE (1/7/2016) A 50-year-old Selbyville woman died this afternoon when the SUV she was driving collided with a trash truck west of Millsboro, the Delaware State Police said..
The accident happened just after 3 p.m. on Hardscrabble Road (Route 20) east of Godwin School Road.
The woman killed was identified as Lisa P. Wyatt.
Police said she was eastbound driving a 2004 Ford Escape on a moderate curve when the SUV crossed into the westbound lane directly at an incoming truck for unknown reason.
The driver of the 2016 Mack 12-wheel roll-off container hauler, Ryan D.F. Johnson of Salisbury, Maryland, braked and swerved to the right, police said, but was unable to avoid a collision. The front of the SUV struck the left front of the truck.
The Ford spun around and came to a stop off the south side of the road in a grassy area. The truck stopped in the westbound lane.
Wyatt, who police said was wearing a seat belt, was trapped in the wreckage and pronounced dead.
Johnson, also wearing a seat belt, was taken by ambulance to Nanticoke Memorial Hospital in Seaford, treated for minor injuries and released.
Police are still investigating but said alcohol is not believed to be a factor in the crash.
Hardscrabble Road was closed about 4.5 hours as a large amount of debris was cleared.
Department of Natural Resources and Environmental Control crews assisted with cleanup of a minor diesel spill from the truck's fuel tanks.