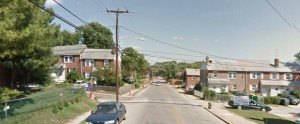 EDGEMOOR, DELAWARE (1/1/2016) A 16-year-old Edgemoor boy was arrested for carrying a concealed deadly weapon, New Castle County police said this morning.
The incident began with a report of someone carrying a firearm about 1:05 a.m. New Year's Day in the first block of S. Cannon Drive.
When Officer E. Christopher approached a teen matching the description on Rysing Drive, the boy fled with officers soon in pursuit. The boy appeared to be clutching something in his waistband during the chase, Cpl. Tom Jackson said.
The officers lost track of him in alleyways of houses on Rodney Drive.
Christopher had recognized the boy, Jackson said, and the teen later turned himself in to police.
He was charged with carrying a concealed deadly weapon, possession of a firearm by a person prohibited (juvenile) and resisting arrest. The teen was being held at the New Castle County Detention Center in lieu of $21,000 secured bail.