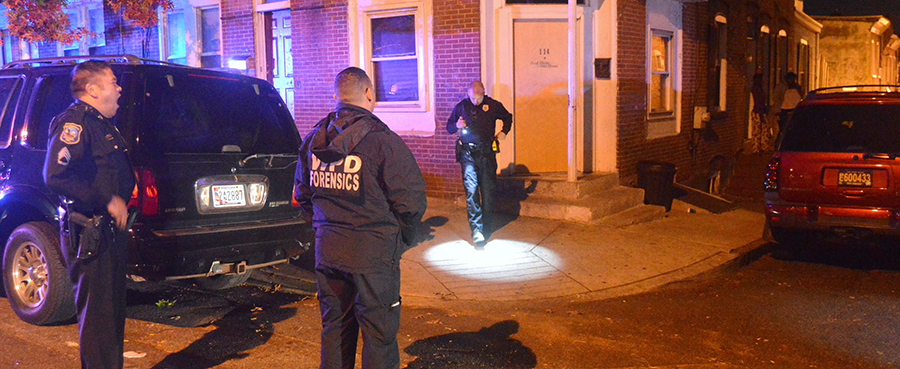 WILMINGTON, DELAWARE (10/28/2015) Wilmington police have arrested a 17-year-old boy and a 19-year-old man who was wounded after a double shooting in the area of the 1300 block of Lancaster Ave.
The incident happened about 1:10 a.m. Tuesday, and police now say the pair were trying to rob a 40-year-old man who was shot in the abdomen.
Police first found the 40-year-old victim in the 200 block of Delamore Place. He was treated by New Castle County paramedics and taken to Christiana Hospital in stable condition.
Police determined the shooting took place several blocks away, and they were investigating at Franklin and Pleasant streets when word came that a 19-year-old man who had been shot in his right wrist had arrived at the St. Francis Hospital emergency room.
Further investigation found that the 19-year-old, identified as Jair Johnson of Wilmington, along with a 17-year-old Wilmington boy, whose name was not released, had been trying to rob the 40-year-old at gunpoint when a struggle began, with the 17-year-old firing a gun and wounding the 40-year-old.
Police said Johnson was believed to have been shot during the struggle but the circumstances are still under investigation.
The 17-year-old was charged with attempted robbery, assault, possession of a deadly weapon by a person prohibited (juvenile) and possession of a firearm during commission of a felony. He was being held at the New Castle County Detention Center in lieu of $130,000 cash bail.
Johnson was charged with hindering prosecution and violation of probation. He was being held at Young Correctional Institution in lieu of $5,000 cash bail.
Anyone with information is asked to contact Detective Lindsay Hageman at 302-576-3630.
37-year-old man shot in Wilmington