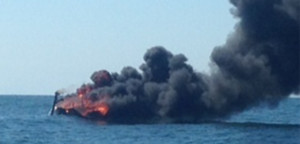 OCEAN CITY, NEW JERSEY(8/9/2015) Two people and their dog were rescued this morning after their 46-foot sailboat caught fire about 3 miles off Ocean City, the Coast Guard reports.
One of those aboard made an emergency radio call to the Coast Guard at 10:49 a.m. that the vessel was on fire and they were abandoning the boat.
They put on life jackets and boarded their dinghy, the Coast Guard said.
A Coast Guard rescue boat from Atlantic City arrived at 11:02 a.m. and took the couple and their dog aboard.
The survivors did not require medical treatment.
The Coast Guard said the rescue was a cooperative effort with the Ocean City Police Department.
"The owner's understanding of emergency procedures allowed for quick Coast Guard response," said Petty Officer 1st Class Neena Santiago, an operations specialist at the Coast Guard's Delaware Bay command center. "His vessel was equipped with a VHF marine radio, life jackets and a dinghy — all crucial to the safety of the people aboard and their dog."
Boater rescued after 4 hours in water