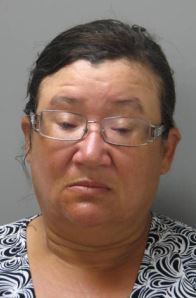 OAK ORCHARD, DELAWARE (7/30/2015) An Oak Orchard day care owner has been indicted in the death of a 10-month-old boy in her care in January, authorities reported today.
Valorie Handy, 51, was indicted Monday on a charge of first-degree murder by abuse or neglect, the Delaware Department of Justice reported today.
The child had been found unresponsive about 2:15 p.m. Jan. 28 at Handy's Little Disciples day care at 28194 Layton-Davis Road, in the Oak Orchard area east of Millsboro.
Delaware State Police found a day care worker had attempted to wake the boy from a nap and found him unresponsive. He was taken to Beebe Healthcare's hospital in Lewes and eventually pronounced dead.
After an autopsy, the death was ruled a homicide by the Division of Forensic Science.
Handy was taken into custody Wednesday and was being held at Baylor Women's Correctional Institution near New Castle in lieu of $100,000 cash bond.
Baby at day care dies; police investigating