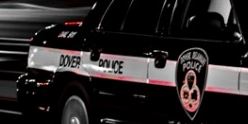 DOVER, DELAWARE (7/30/2015) Dover police say they are seeing an increase in fraudulent returns of shoplifted items to stores and are offering tips to retailers to help reduce the trend.
In the scam, shoplifters leave the store with items and later try to return them without a receipt. In the absence of a receipt, stores typically only provide store credit on a gift card for the returned merchandise.
The thieves then sell the gift cards for cash, often to pawn shops, for a percentage of the value.
Police say that while shoplifting complaints have decreased over the past year, the number of fraudulent returns has increased.
Police suggested these tips for retailers:
Educate employees about this issue.
Request ID when making a return.
Limit number of no-receipt returns within a calendar year.
Evaluate and change return policies as needed to prevent these incidents.
Utilize special markings or removable labels on merchandise to indicate when something was purchased or was removed directly from the shelf.
Dover police say posting arrests helps reduce shoplifting